Punta Suárez :: Española Island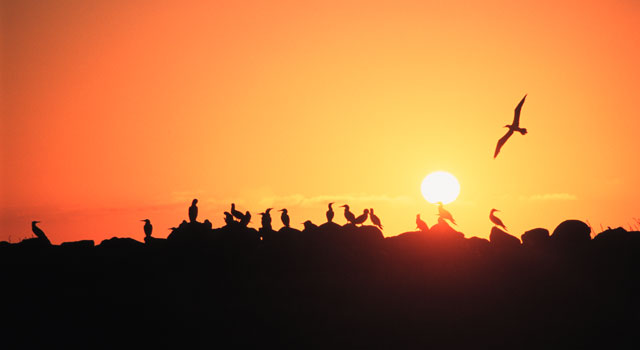 Punta Suarez is located west of the Española Island. The trail is about 1670 meters. The approximate travel time is 2 hours. 
Española is known as one of the older islands, with an estimated age of 3.3 million years. Basaltic lava rocks cover much of the island.
The albatross (Diomedea irrorata) is endemic to Española Island, but has also been reported in the Isla de la Plata (National Park Machalilla). Albatrosses are present in Española from April to November or December. 
Española has a high percentage of endemism because it is isolated from other islands; this is because the species in this island have no gene flow with species from other islands. Marine iguanas have a turquoise color with red in the breeding season. A variety of mockingbird, lava lizards, Darwin's finches are considered endemic to this island. 
The mockingbird of Española is the largest species in the islands and developed carnivorous behavior. They feed on eggs of seabirds, sea lion placenta and newborn tortoises. The lava lizards are the largest of the 7 species endemic to the Galapagos. 
In 1970 a program for the eradication of goats began, they were entirely eliminated in 1978. A major attraction is El Soplador (a blowhole) located on a cliff, the water rises 20 to 25 feet, depending on the intensity of the waves. 
Galapagos Islands Tours Galapagos Islands Cruises Galapagos Islands Information


Driving directions for visitors: 
Do not get too close to the cliffs to avoid falling.

Do not leave the trail in the area of nesting marine iguanas. It can alter these fragile ecosystems.





Galapagos Islands Tours Galapagos Islands Cruises Galapagos Islands Information