Cerro Alieri :: Floreana Island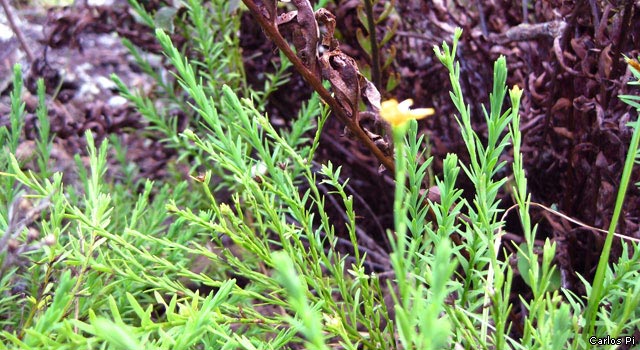 Cerro Alieri is located east of Port Velasco Ibarra, reaching an altitude of 340m.
To reach the entrance of this visitor site it is required to travel by car for 15 minutes on the main road. Municipal Service is in charge of transportation in Floreana. 
The trip to visit the site takes approximately two hours (round trip). The difficulty level is medium to high. The walk can be hot. 
One of the interpretive resources Cerro Alieri has is its vegetation. Of 48 species identified, 56% are native and 33% are endemic. They are shrubs and trees Darwiniothamnus tenuifolius, Lippia salicifolia, Lecocarpus pinnatifidus, Linum cratericola, Scalesia pedunculata, and so on. The latter is a tree that blooms in February and whose population is estimated at 15 individuals. Settlers long knew them as "the unknown tree" and were an abundant species 50 years ago. It is believed that its decline was probably due to goats and the fact that they were used in the construction of homes. 
The Cratericola Linum plant is a species that is critically endangered; only 40 individuals are found, and have not yet regenerated. It was believed extinct until 1997, when GNP and CDRS personnel rediscovered it.
Galapagos Islands Tours Galapagos Islands Cruises Galapagos Islands Information






Special Indications
The precipitation in the area can reach up to 500mm per year, so the road may be muddy and it may rain. Wear appropriate clothing and footwear for this kind of weather.