Mirador de la Baronesa :: Floreana Island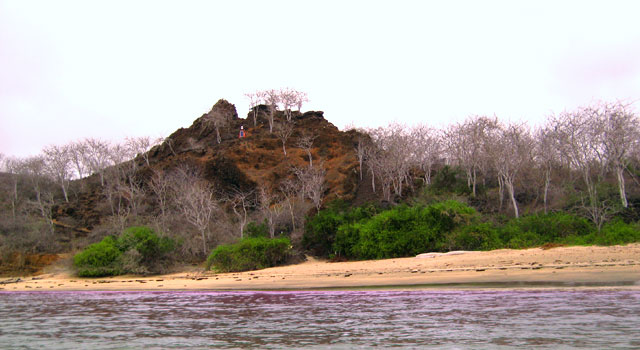 This vista is located north of Floreana Island, in La Olla Bay. It is a basaltic tuff formation between Cormorant Point and Post Office Bay. 
The ascent of the trail is fairly easy, except for the last 33 m where the slope is elevated, however, steps have been implemented in this sector. 
During the panga ride you can observe several marine species such as golden eagle rays, sea turtles, sea lions, mullets and eventually Galapagos penguins. 
Good place for understanding the mangroves. The red mangrove is characterized by a hanging elongated fruit, which in reality is a new daughter plant that grows from the parent plant, a rarity in the plant kingdom. The red mangrove is a pioneer in the coasts and has a very hard and resistant wood. 
Galapagos Islands Tours Galapagos Islands Cruises Galapagos Islands Information
Among other plants, we find: Cordia leucophlyctis, Lantana peduncularis, Plumbago scandens, and so on.
This site is especially attractive because aside from its impressive scenic beauty, it has a history. It is known by letters that Baroness Eloisa von Wagner (referring to "The Galapagos Affair" by John Treherne) loved this place, where she spent several hours where she could acquire knowledge of vessels approaching the island. Within walking distance (30 m) are the ruins of what is known as the House of the Baroness. 
From the vista, the landscape covers the coastline from the Enderby islet to Post Office Bay, as well as Cerro Pajas, the pool of flamingos (Punta Cormorant), upper areas and an extensive forest of palo santo.






Special Indications 
It is advisable to complement the visit with a panga ride.