Post Office :: Floreana Island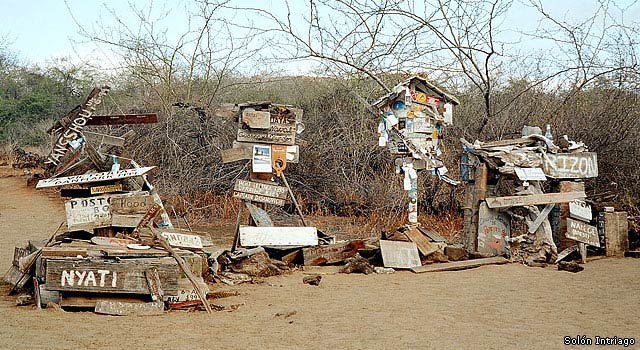 Post Office or Post Office Bay is a historic site that recalls the days of the whalers, when they came for supplies of Galapagos tortoises and water. Presumably a whaling boat captain placed a barrel in the eighteenth century for those who pass through the bay to leave mail and deliver those with the same destination. In history the first appearance is on a map of the whaler James Colnett in 1793. 

Today, this tradition is alive with tourists visiting the Galapagos. Remind passengers before disembarking to take any letter or postcard for family members or friends. They do not need stamps. All they have to do is pick up a letter that is directed to where they live.
At Post Office Bay remains are also found of a Norwegian settlement effort made in the early twentieth century, who installed a fish cannery.
Another point of interest is a lava tunnel, which is formed when lava cools on the sides and base, but the core material continues to flow downward. Eventually, the lava, still liquid, leaks and spills outward leaving a hollow cavity.
Galapagos Islands Tours Galapagos Islands Cruises Galapagos Islands Information






Special Indications
 The path to the cave (lava tube) is indicated. Take flashlights.


Do not use sunscreens with strong fragrances or bright colors, because in this island there are a lot of introduced wasps (Polistes versicolor), which are attracted by both, and their sting is strong.