Arnaldo Tupiza Breeding Center :: Isabela Island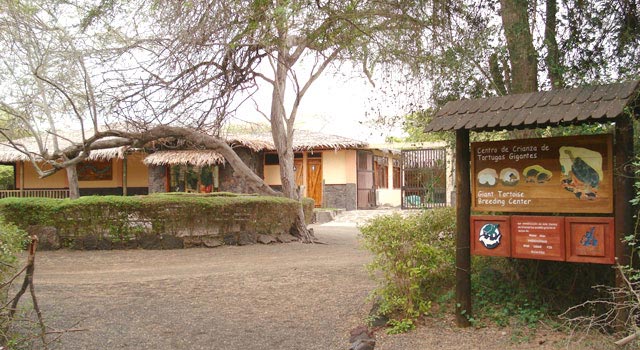 The Tortoise Breeding Center of Isabela is located 1.5 km from Puerto Villamil. You can walk or drive. 
In this Breeding Center populations from South Isabela (Sierra Negra Volcano, Cerro Azul): Cazuela, Cinco Cerros, Roca Union, San Pedro, Tables and Cerro Paloma have been reproduced in captivity. In total there are 330 between juvenile and adult tortoises. 
From the population of Cerro Paloma, there are 4 males and two female Galapagos, which, so far, are the only survivors. The raising of this breed of tortoise is of particular interest since genetic analysis performed in 1994 based on blood samples has determined that tortoises from this Galapaguera are different from the others. This is compounded by the fact that one of these two females is infertile, as shown by analysis of absent follicles. However, in 1998, the second female nested and now finally has 9 Galapaguitos of Cerro Paloma.
Galapagos Islands Tours Galapagos Islands Cruises Galapagos Islands Information
Cazuela tortoises are not in as serious danger of extinction. In their home there are still adults and juveniles. The main problems we have in the field are the competition for food by feral goats, trampling of nests by wild donkeys and killing by man from many years ago. 
Cinco Cerros has a giant tortoise subpopulation quite different. Locally it is known as "aplastada" (flattened} by the peculiar shape of its shell. In 1994 it was estimated that there were approximately 70 "aplastadas". The main reason for its low population size is apparently strong nest predation by ants of the genus Solenopsis. In September 1998, the eruption of Cerro Azul Volcano, threatened to burn the Galapaguera where this very rare sub-population is concentrated. Due to the emergency of the situation, and with the assistance of the Ecuadorian Army, an evacuation of tortoises "aplastada" was carried out in the affected area. The rescued animals were moved to the Breeding Center of Puerto Villamil, bringing the number that is there now to 17 (previously 2): 7 males and 10 females. 






In addition to the Cinco Cerros tortoises, all endangered adult tortoises were brought by helicopter in 1994. Juveniles and sub adults were carried by hand and on horses, a commendable and outstanding work of the park rangers, who had to cross areas of difficult access and under pretty poor conditions in order to give these reptiles, insignia of the Galapagos, a chance of survival. 
The tortoises are fed three times a week, based on an Otoya (Xanthosoma saggitifolium) plant diet, and cachimuela (Potomorphe peltata). The water they drink is from small artificial ponds that exist within the corrals. 
The Breeding Center has beautiful gardens consisting of native plants, as manzanillo (Hippomane mancinella), mesquite (Prosopis juliflora), prickly pear (Opuntia spp), palo santo (Bursera graveolens), lime prickly-ash (Zanthoxylum Fagara), thorn shrub (Scutia pauciflora) Galapagos croton (Croton scouleri), Glorybower (Clerodendrum molle), sea island or creole cotton (Gossypium barbadense), Radiate-headed (lechoso) (Scalesia affinis), yellow cordia (Cordia lutea), snowberry or milkberry (Chiococca alba), myrtle (Maytenus octagon), nickerbean or nickernut (Caesalpinia bonduc) and Darwin's Daisy (Darwiniothamnus spp).





Galapagos Islands Tours Galapagos Islands Cruises Galapagos Islands Information


Special Indications
It is advisable to combine a visit to the Breeding Center with some other activity in the vicinity of Puerto Villamil e.g. Las Tintoreras or Sierra Negra. 

In the area there are introduced wasps. It is best not to wear clothes with bright colors like yellow or orange hues.