Interpretation Center :: San Cristóbal Island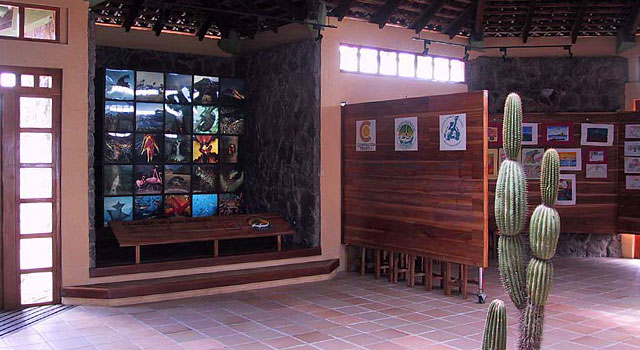 The work of the Interpretation Center in San Cristobal is one of the components of the project "Plan of Interpretation and Environmental Education for the Galapagos Island", funded by the government of Spain through the Spanish Agency for International Cooperation for Development (AECID) in coordination with the Directorate of the Galapagos National Park and the support of the Charles Darwin Foundation. 
It was inaugurated by the President of the Republic of Ecuador, Dr. Jamil Mahuad, and the Prince of Asturias, Felipe de Borbón, in August 1998.
The tour offered by the Center for Interpretation's facilities takes us through the history of the islands in the context of nature, humankind and conservation. 
The Museum of Natural History explains a series of natural circumstances such as the volcanic origins of the islands, their remoteness from the continent, its ocean currents, its special climate, the arrival of different species, and their establishment, among others.
Galapagos Islands Tours Galapagos Islands Cruises Galapagos Islands Information






The Human History exhibit narrates chronologically the most significant events related to the discovery and colonization of the Galapagos. 
The second level describes the reality of today's Galapagos: the problems and the struggle of several institutions and individuals to conserve Galapagos. 
The Center has an outdoor theater and a cinema. 
You can request more information: edusancristobal@yahoo.com
<mail to:edusancristobal@yahoo.com>