La Lobería :: San Cristóbal Island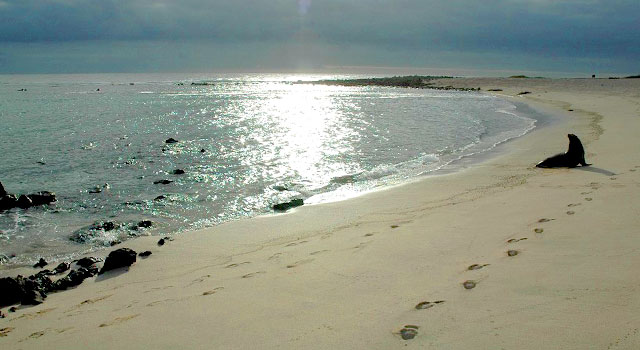 The beach is 10 minutes from the airport of San Cristobal. It is a coral sand beach with sea lions. 
La Loberia is a piece of coast that has been named for the large number of sea lions resting on the rocks and sand. Despite being outside the boundaries of the National Park area, due to its great importance, the park staff obliges for its care and maintenance.
The tour will find button mangrove, white mangrove, chala, palo santo, cotton, Tiquilia, morning glory and other species of the littoral zone as the cacho de chivo, whose seeds is the main source of food for several species of finches.
Remind visitors not to step on the plants that will be on the floor throughout the tour along the coast, ask visitors to stay on trail to avoid doing so. 
Galapagos Islands Tours Galapagos Islands Cruises Galapagos Islands Information






Besides the sea lions, yellow warblers, frigates and various species of finches can be seen. On the rocks, large Galapagos marine iguanas can be found, unique in the world. One can distinguish the male sea lions from the females by size. The male is usually bigger and stronger, weighing up to 250 kg as adults; they are also distinguished by a protrusion on the head. Socially, they are organized into colonies or harems. Each colony is composed of a dominant male and about 30 females with their cubs. Sea lions are animals with a strong territorial sense. Adult males defend their boundaries from other males. They spend much of the day watching over their territory and issuing a series of sounds and movements reaffirming their territorial power. Some may be aggressive to humans. You have to keep a safe distance.