Cerro Dragón :: Santa Cruz Island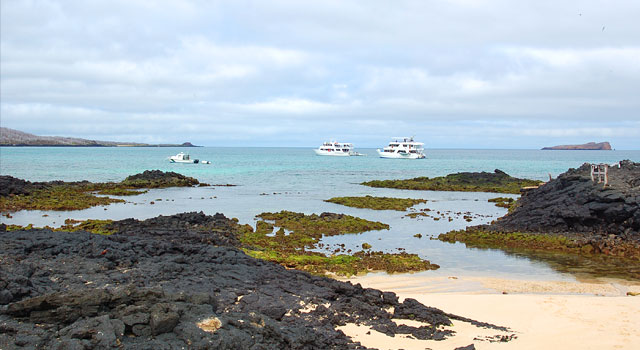 The visitors site at Dragon Hill is located in northwestern Santa Cruz Island, and consists of a trail that runs through three different environments at just 1,600 m long. 
It gets its name because in 1975, was one of the only places in the Santa Cruz Island where there were land iguanas (Conolophus subcristatus) in healthy state. That same year, the Galapagos National Park and the Charles Darwin Foundation initiated a program to conserve land iguanas. The iguanas on North Seymour (originally from Baltra), iguanas from Cartago Bay (Isabela Island) and iguanas of Santa Cruz Island were studied and then transported to pens especially designed for these animals to breed in captivity. By 1979 first iguana were born.
The entire iguana population of Cerro Dragon was transported to the Venice Islet to keep the away from the wild dogs which in those days abounded in the place. Soil from the base of Cerro Dragon was also transported to Islet to create an appropriate environment for nesting iguanas. It was necessary to separate the Venice Islet from Santa Cruz Island with a barbed wire fence to prevent predator dogs from crossing to the Islet, which is separated from the island by a very narrow channel. Several iguanas that were reproduced in Venice were returned to Cerro Dragon in 1990. 
Galapagos Islands Tours Galapagos Islands Cruises Galapagos Islands Information
Currently there are no dogs in Cerro Dragon, and the Galapagos National Park Service performs constant monitoring of cats and donkeys.
In the lagoons at this site, there is shrimp (Artemia salina), the same as is the food of flamingos; at certain times of year they are more abundant and therefore the population of these birds is larger. During rainier times the water of the lagoons become too sweet and therefore shellfish populations decline, and shorebirds also become scarce.






Special Indications 
Dragon Hill has been open for tourism since 1993. The repatriation of land iguanas to this site presents a good option to avoid the overhead of tourism in the South Plaza Island.

The beach is very rocky. At high tide it's a nice place for snorkeling.

At this visiting site you can find vegetation of typical the intertidal zone and dry zone.





Galapagos Islands Tours Galapagos Islands Cruises Galapagos Islands Information