El Chato Reserve :: Santa Cruz Island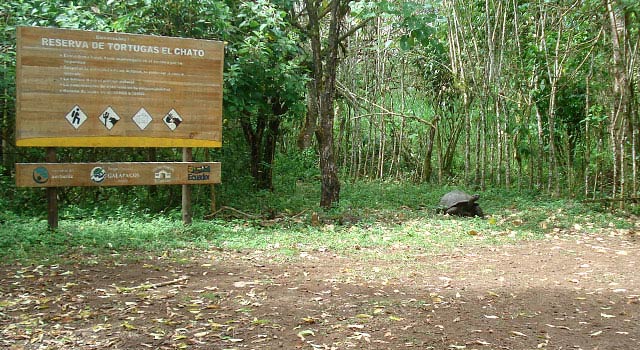 The reserve comprises of two areas, La Caseta and Cerro Chato. The area is open: no guide is required, but it is recommended to take one, because it is easy to get lost in this sector. In recent years two people have been lost, and one, with fatal results. 
The trail that starts in Santa Rosa is surrounded by tall grass and follows the boundaries of some farms. Depending on the season it can be muddy. The rocks are slippery. Be careful. 
At 1 km of La Caseta there is a pool of water that is filled with tortoises during the rainy seasons. The path starts in front of la Caseta. 
Calculate at least three and a half hours to get to and from La Caseta. In recent months the path to La Caseta has closed due to vegetation, so that all groups have been forced to go only to Chato whose trail is well marked. Warn about the presence of blackberry. 
If desired, you can rent horses in Santa Rosa, if so horses must be tied before coming to la Caseta or El Chato. If the group is interested in bird watching, walking is best for viewing. 
Galapagos Islands Tours Galapagos Islands Cruises Galapagos Islands Information







La Caseta is used by the rangers who work in the Galapagos conservation program. Their functions includes building stone walls around nests to keep pigs from digging and eating the eggs; and hunting of pigs, goats and dogs. 
In 1976, wild dogs invaded the area of the Reserve and ate almost all galapaguitos who were born in the last 5 years. The problem herein is feral pigs, which are kept away by regular hunts. 
The tortoises like immerse themselves in water and mud. There are some theories about it: it is believed for thermoregulation (for heating or cooling depending on conditions) or a mechanism to kill ticks and protect themselves from mosquitoes. 
The road to the reserve is one of the best places to observe land birds. Tree and ground finches, vermillion flycatchers and Cattle Egrets inhabit the area and sometimes Galapagos Rails have been seen.