El Mirador de los Túneles :: Santa Cruz Island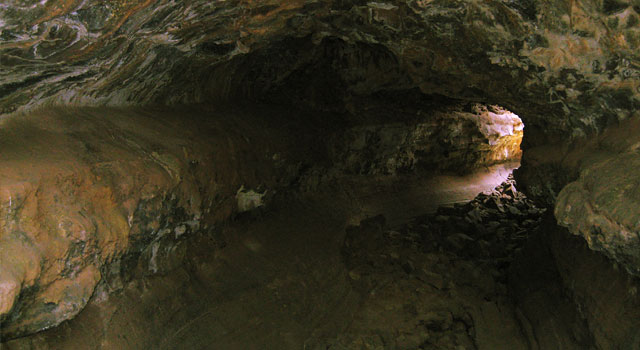 El Mirador is not a visitor site included in the list of Galapagos National Park Management Plan sites. However, being in the vicinity of Puerto Ayora, most organized groups of tourists stop there to observe this fascinating geological attraction.
This is a lava tube and is an excellent alternative when the groups have not known Bellavista tunnels or others, which are privately owned. Being short, tourists can experience the sensation of being inside a lava tube, without the need to carry flashlights, because its never completely dark.
You can access the site on foot, bicycle or vehicle. Being adjacent to urban areas you do not need a guide unless it is an organized group.
Galapagos Islands Tours Galapagos Islands Cruises Galapagos Islands Information







This is a partially collapsed lava tube. Lava tubes form when the surface layer of the lava flow cools on contact with cooler atmospheric air. As it cools and hardens, it acts as an insulator preventing the solidification of hot fluid material that continues to run below it. At the end of the eruption and once all the lava has passed, we get an empty tube. Through cooling, cracks, tremors, often fracture the top of the tube, collapsing, and thus the inside is exposed. 
It is a good place to explain about the native vegetation of the arid zone, as there are trees like matazarno and palo santo.
It is a good place to observe ground finches and other birds. White owls are often found inside the tubes.